ASK-GSM99CS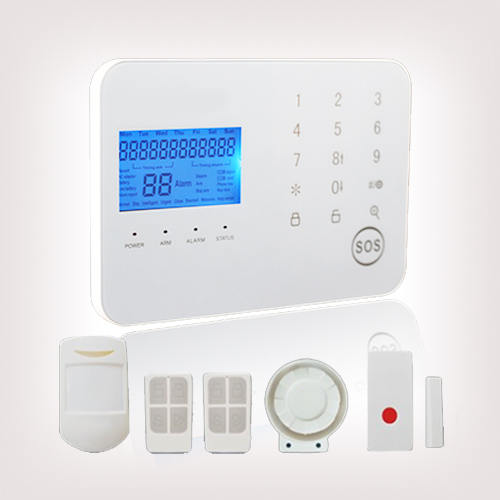 MODEL NO: ASK-GSM99CS
DESCRIPTION: Touch Keypad GSM PSTN Alarm
Product Parameter:
The system with a high-grade large-screen LCD Chinese type GSM dual-network telephone line domestic / commercial burglar alarm system, with advanced GSM digital signal processing technology, intelligent alarm system innovation developed by the GSM wireless mobile and traditional telecommunication network combination. It is highly integrated digital voice, Chinese SMS, learning code wireless for remote appliance control, SMS recognition technology. Automatic voice or text messages to inform police intelligence and site of the incident, stable, reliable, secure, and humane control alarm.
1.Large screen Chinese blue backlit LCD display, voice prompts, easy to operate. GSM mobile phone cards can be installed and plugged
Telephone line. Compatible dual-network alarm, double insurance, more stable. Direct inquiry calls and calls on the host.
2.Allow up to 99 wireless defense zones and 4 wired zones .Each can be defined as one of the 8 zone types including NORMAL ,STAY ,INTELLIGENT ,EMERGENCY ,CLOSED ,HELP ,SENIOR ,WELCOME and CHIME.
3.Four sets of scheduled arm /disarm function ,each time disarmed you can select the included period of time and different defense zone,eliminating of need of the manual procedure ,realizing the beauty of automatic controls .
4.Support configuration via phone (handset ) . messages to system setup text messaging costs associated with the alarm panel .
5.6 groups of alarm phone call, 3 groups of SOS phone No., 6 groups of SMS phone No. Different zones can dial a pre-set telephone number .
6.10s of voice record, Built in rechargeable battery
7.Telephone long distance telephone control for arming ,disarming ,monitoring ,remote announcement .
8.One set of normally open signal outputs ,relay linkage output ,home appliances remote control can be realized .
9.Wireless intelligent study code ,compatible with PT2262 normal encoding and million group coding can be connected with 150pcs wireless sensors and 150pcs of wireless remote control.Master different coding remote controls can control specific sub-zones.
10.Unique black box features ,you can display most recent 72 disarmed records and 102 recent alarm recording . Accurately shows the alarm time and control code .
11.Built in Ni-Hi rechargeable battery and automatically switchable upon power failure ,and notification will be sent via SMS.
12.Panel integrated with quad GSM/GPRS industrial graded module ,stable and reliable .
nput Voltage: DC12V/1A
Standby Current: <55mA
Alarming Current: <450mA
Wireless Frequency: 433MHz, 2262/4.7MΩ
GSM Frequency: 850/900/ 1800/ 1900MHz
Back-up Battery: NI-HI AAA*6 DC7.2V
Siren Volume: 110dB