ASK-GSM10B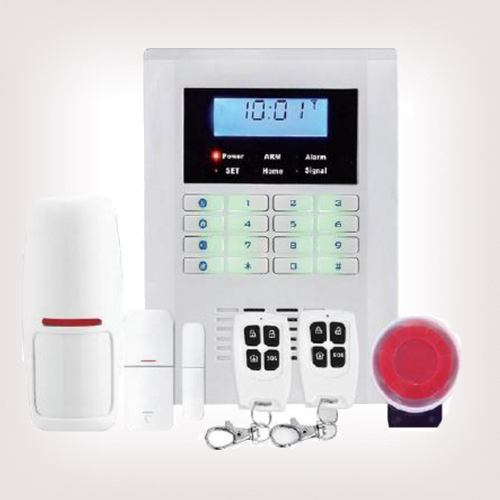 DESCRIPTION:
intelligence gsm alarm system security alarm system
Main features - House anti-theft alarms system, wireless gsm alarm system
1. With dual network of GSM + PSTN, the System is more secure and reliable
2. With quad-band GSM module for worldwide use.
3. Includes 2 wired zones and 99 wireless zones.
4. Supports code pairing with 8 wireless remote controllers at the most.
5. LCD screen with a built-in clock.
6. With voice prompts for easy operations.
7. Supports an external intercom speaker.
8. Supports 3 groups of timed arming and 3 groups of timed disarming.
9. The main device can dial alarm calls to 6 preset phone numbers.
10. The main device can send text alarm to 3 preset phone numbers.
11. With 10-second manual recording function to leave messages.
12. With a built-in digital voice device to give voice alarm automatically.
13. With built-in SMS service to send alarm messages automatically.
14. Supports wireless alarm siren and control by wireless devices (customization).
15. With the One-Key-Control function, you can conduct Away Arming, Home Arming, Remote Control Arming or Off-site Telephone Arming.
16.Alarm Location Programming: Help, Fire, Gas Leak, Door Lock, Living Room, Window, Balcony, and Perimeter Alarm.
17.Includes multiple zone programming functions like Real-Time, Delay, 24 Hour, Bypass.
18.With Wireless Self-learning Code Pairing, new accessories can be installed conveniently, safely and effectively.
19.Off-site remote control allows Main Device Arming, Disarming, Monitoring, Intercom etc.
20.Arming Modes: Remote Control Real-Time Arming, Away Delayed Arming, Home (Stay) Arming, Timing Arming, Off-site Telephone Remote Arming.
21.Line Seizure: If an alarm happens, the main device will cut off the busy line and give priority to make a call for the alarm.
22.With a built-in 7.2V lithium battery, it can power the Alarm during a blackout.
23.Comply with the CCC Safety Standard and GB12663-2001 national standard.
24.Compatible ADEMCO Contact ID protocol (customization).