Key finder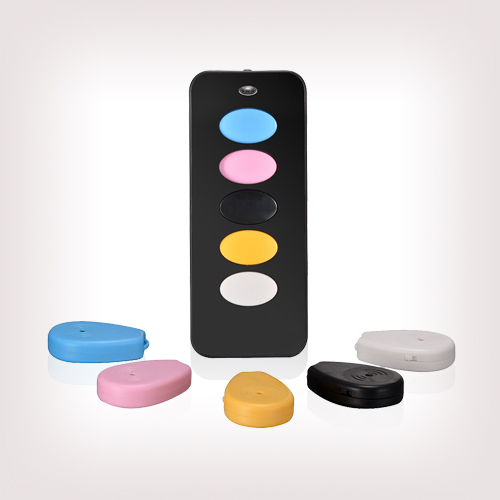 DESCRIPTION:
key finder can help you to find easily lost items quickly. With just one press on the button, the alarm sound will lead you to find the lost items.
1.Four kinds colors of transmitter for you choose.(white,black,multi-color and white- black mixed.)
2.Smart design offers certain adornment effect
3.Works through walls and floors
4.Can hang and can also stick
5.Big buttons and easy operation, makes it specially suited to older people.
6.One transmitter, Five receivers correlated with the five big buttons on the transmitter
7.Suitable for personal use, family use, gift and promotional purposes, etc.
8.New electronics arrivals and electronic gift items.
Dimension: 175*120*20mm
Weight: 116g
Wireless: Bluetooth 4.0 (Bluetooth Low Energy)
Range: 0~30meters
Buzzer: 90Db
Indicator: Blue LED
Battery: CR2032 button battery X1
Working Time: (The continual beep of alarm have impact on working time)
Disconnected but can be found by phone 7X24h: Up to 12 months
color box